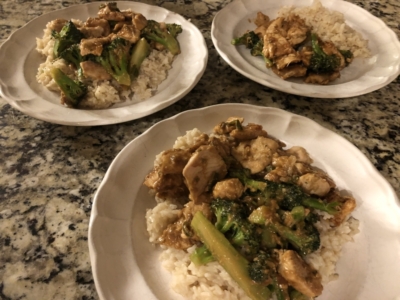 This tasty meal is gluten free, dairy free, sugar and flour free, and anti-inflammatory! My kids love it, as does David!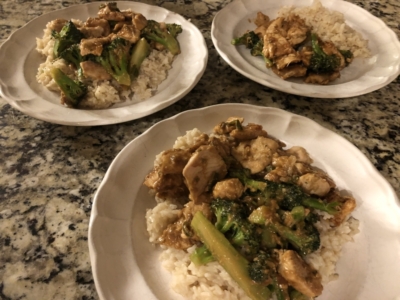 Ingredients:
2 Tbsp olive oil
2 Tbsp green onion, chopped
4 cloves garlic, diced
1 Tbsp jalapeno pepper, de-seeded and diced
2 Tbsp freshly grated ginger
2 lb boneless, skinless chicken breast, sliced into bite size pieces
4 cups broccoli, washed and cut into bite size pieces
Sauce:
1/3 cup natural peanut butter
1/4 cup soy sauce
2 Tbsp rice vinegar
1 Tbsp honey
Salt and pepper, to taste
Heat olive oil in a large skillet over medium heat. Add green onion, garlic, ginger and jalapeno. Saute for 2 minutes. Add chicken breast. Saute chicken breast until cooked through – 8-10 minutes.
Add broccoli. Cover pan with lid, reduce heat, and cook 5-7 minutes until broccoli is crisp-tender.
Whisk sauce ingredients together in a separate bowl. Pour into pan with chicken and broccoli. Remove from heat. Stir until coated. Serve over brown rice.