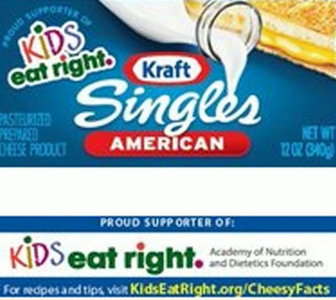 Earlier this month, Kraft Singles cheese slices became the first food—ever—to be officially endorsed by the Academy of Nutrition and Dietetics (AND). As members of the AND (and proud supporters, we might add), we, like most dietitians, did a double take. A food that is similar to cheese, but not quite cheesy enough to actually be called cheese, is the first food to proudly display the name of Kids Eat Right. Really?
We weren't the only ones to notice. The news media exploded with articles on what appeared to be an endorsement of processed food. And in response, the AND wrote the following:
Unfortunately, recent news articles misstated a collaboration as a Kids Eat Right "endorsement" of Kraft Singles, and that it represents a "seal of approval" from Kids Eat Right, the Foundation, or the Academy. It is not an endorsement. It is not a seal of approval. We understand this distinction is of little consequence to many Academy members who are concerned with the perception. We are working on a solution.
This week we learned that the AND and Kraft are in discussions to terminate the pilot program.
We at Feed to Succeed are relieved to hear about the end to the label. We advocate a diet of real food: whole grains, lots of fruits and veggies, lean protein and yes, real cheese.