The key to eating healthy is eating food that tastes good. From the youngest of babies, we learn that food that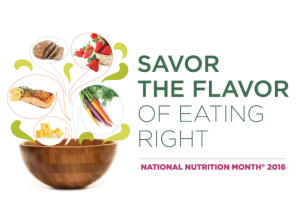 doesn't taste good isn't worth swallowing. Whenever we work with clients, regardless of the issue, we focus on eating a diet of food that the child and family can enjoy. That's why I think this month's National Nutrition Month theme: Savor the Flavor of Eating Right is spot on.
To start off the party of National Nutrition Month this March, I present an awesome "savor the flavor" recipe that you can flavor yourself! Chickpeas–garbanzo beans–call them what you will, taste lovely in a salad or even on their own. But to roast them with spices is divine. Try this recipe that only takes moments to prepare, and you'll see what I mean. I suggest sharing them with your family or a friend, otherwise, you're likely to eat the whole batch.
ROASTED FLAVORED CHICKPEAS
3 cups cooked chickpeas (either canned or soaked and cooked from dry chickpeas)
3 tsp. olive oil
1 tsp. salt
1 Tbsp mixed spices of your choice (paprika, garlic, onion, zahatar, barbecue mix or some combination)
Heat oven to 350 degrees. Mix spices in a bowl with olive oil. Add drained chickpeas and stir until thoroughly combined. Spread out on a baking sheet and bake for 30 minutes. Enjoy warm. You can also add them to a salad.
National Nutrition Month® is a nutrition education and information campaign created annually in March by the Academy of Nutrition and Dietetics. The campaign focuses attention on the importance of making informed food choices and developing sound eating and physical activity habits. In addition, National Nutrition Month® promotes the Academy and its members to the public and the media as the most valuable and credible source of timely, scientifically-based food and nutrition information.
Registered Dietitian Nutritionist Day, also celebrated in March, increases awareness of registered dietitian nutritionists as the indispensable providers of food and nutrition services and recognizes RDNs for their commitment to helping people enjoy healthy lives.
https://feedtosucceed.com/wp-content/uploads/2016/03/IMG_4772.jpg
2048
3072
feedtosucceed
https://feedtosucceed.com/wp-content/uploads/2013/04/fts_logo2-300x138.png
feedtosucceed
2016-03-01 20:23:54
2016-03-02 03:36:05
Roasted Chickpeas to Launch Nutrition Month