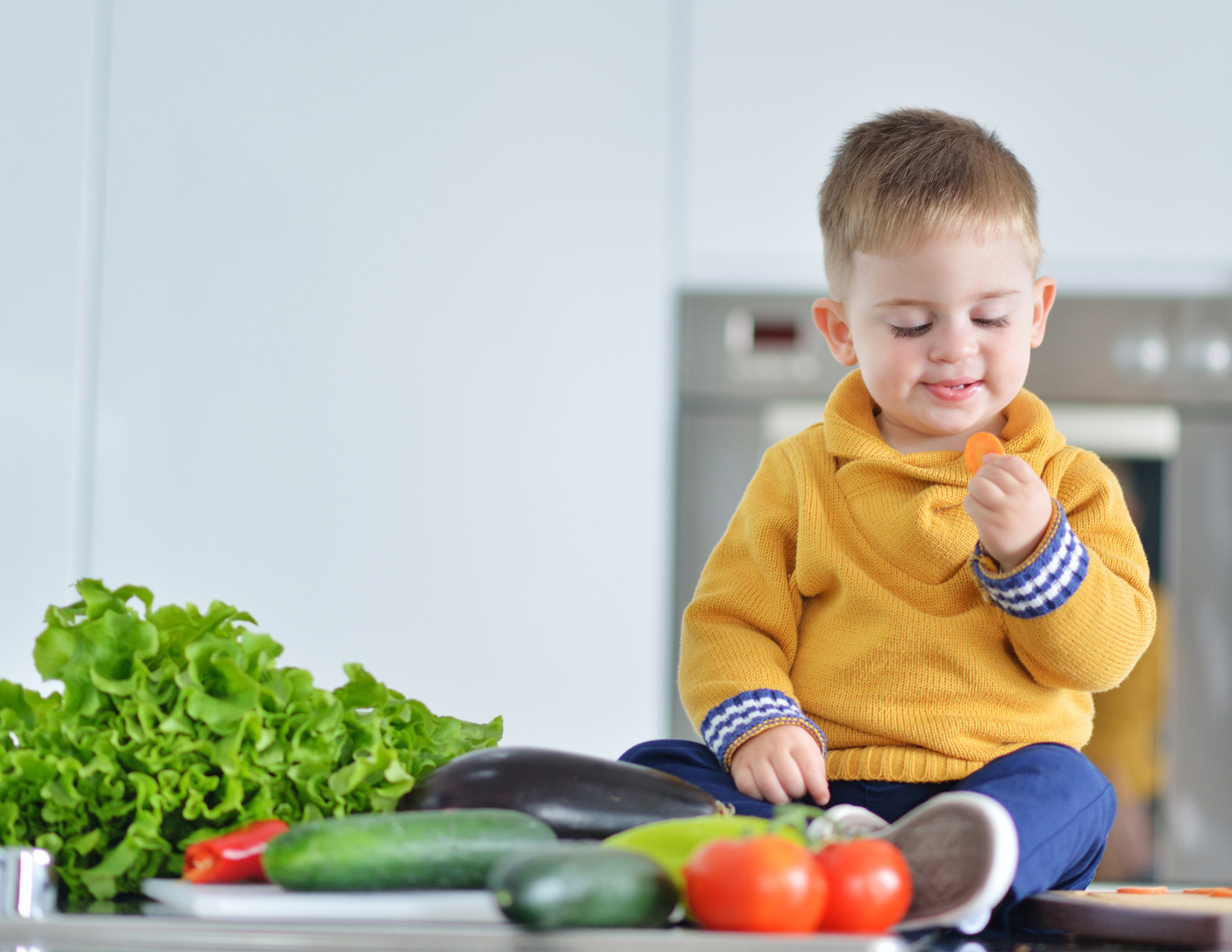 Dear Nicole, how do I know if my child is eating enough fruits and vegetables daily, and how do I get my child to increase their intake of fruits and vegetables?
How many fruits and vegetables should my child be eating every day?
Those are great questions and ones I get asked quite often in sessions! Please see the chart below for some guidance.
Number of Daily Servings of Fruits and Vegetables Based on Age
| | | | | | |
| --- | --- | --- | --- | --- | --- |
| | 1-3 years old | 4-5 years old | 6-11 years old | 12-15 years old | 16-18 years old |
| Fruit | 1-1.5 cups | 1-1.5 cup | 1.5 cups | 1.5 cups | 1.5 cups |
| Vegetables | 1-1.5 cups | 1.5-2 cups | 2-2.5 cups | 1.5-2 cups | 1.5-2 cups |
*1 cup of fruit=1/2 cup dried fruit, 1 small whole fruit or ½ large whole fruit, limit fruit juice
*1 cup of vegetables=1 cup raw or cooked vegetables or vegetable juice, 2 cups raw leafy greens
Let me give you an example of a fruit and vegetable portion size at dinner. It can be hard to picture the full serving size over a day. For ages 1-3 years old, 1/4-1/2 cup of green beans and 1/4-1/2 cup of mandarin oranges would be an appropriate portion size for dinner. Splitting up the portions over the course of the day is the best way to meet your child's daily servings. Not only that, but offering fruits and vegetables multiple times can help to expose them to a variety. This also helps children learn that fruits and vegetables are something to be eaten throughout the day and are a normal part of each meal and even snacks.
How do I get my child to increase their intake?
Now for the second question, how do I get my child to increase their produce intake? Let's take a look at some recommendations to help your child eat more fruits and vegetables on a daily basis.
1. Expose your child to new vegetables and fruit frequently.
It could take many attempts before your child may accept a fruit or vegetable. I would recommend not forcing your child to eat a fruit or vegetable. Instead of forcing I would recommend practicing food exposure. To do this, try exposing your child to different preparations of the same fruit or vegetable at meal or snack times. Trying the same foods but prepared differently can lead to food acceptance. For example, your child may prefer a raw carrot over a cooked diced carrot.
A great tip that I have involves preparing food differently and that can make a meal more fun would be offering a fruit or vegetable with a dip. Some examples would be apples and peanut butter, carrots and hummus or Ranch dressing, and peppers and guacamole.
2. Have your child participate in mealtimes.   
Another example I would like to recommend would be taking a trip to the grocery store or going to a local farmer's market. It can be fun for a child to get to pick out fruits or vegetables they want to try. I would say let them pick out two fruits and two vegetables and then let them pick which one is going to be served for a meal. Also, involve them in the cooking process! Your child could help you wash or prepare the fruit or vegetable. This participation helps a child feel they are taking an active role in mealtimes and it can be fun to get to eat the food they picked out and helped prepare.
3. Model good eating behaviors and serve the same meal to everyone.
Let your child see you eat a variety of vegetables and fruit. If you are eating fruits and vegetables, then your child is more likely to eat theirs. Modeling good eating behaviors encourages children to be less selective and encourages exposure to different foods. This is a great tip and something that I would recommend to all families.
4. Build trust at mealtimes.
Do not hide the fruit or vegetables in your child's meals. If they figure out you are trying to trick them they may lose trust in the meals you offer them in the future. Some children will reject foods that they once liked if they don't feel that mealtimes are safe.
5. Be one with nature.
Get your child involved in growing their own produce in an indoor or outdoor home garden. Incorporate more of these vegetables or fruits in your child's meals. Now that it is getting warmer out, you can even go and pick your own fruit. I love taking my nieces and nephew to pick raspberries and strawberries and then incorporating them into healthy meals and snacks.
Increasing fruit and vegetable intake can be accomplished using these strategies. We love working with new patients! Do you have a child who could use guidance on eating more fruits and vegetables? See the link below to schedule an appointment with one of our Pediatric Registered Dietitians!
Written by Nicole Michehl, MS, RDN, LDN, CNSC
Click the link to schedule an appointment with one of our Pediatric Registered Dietitians.