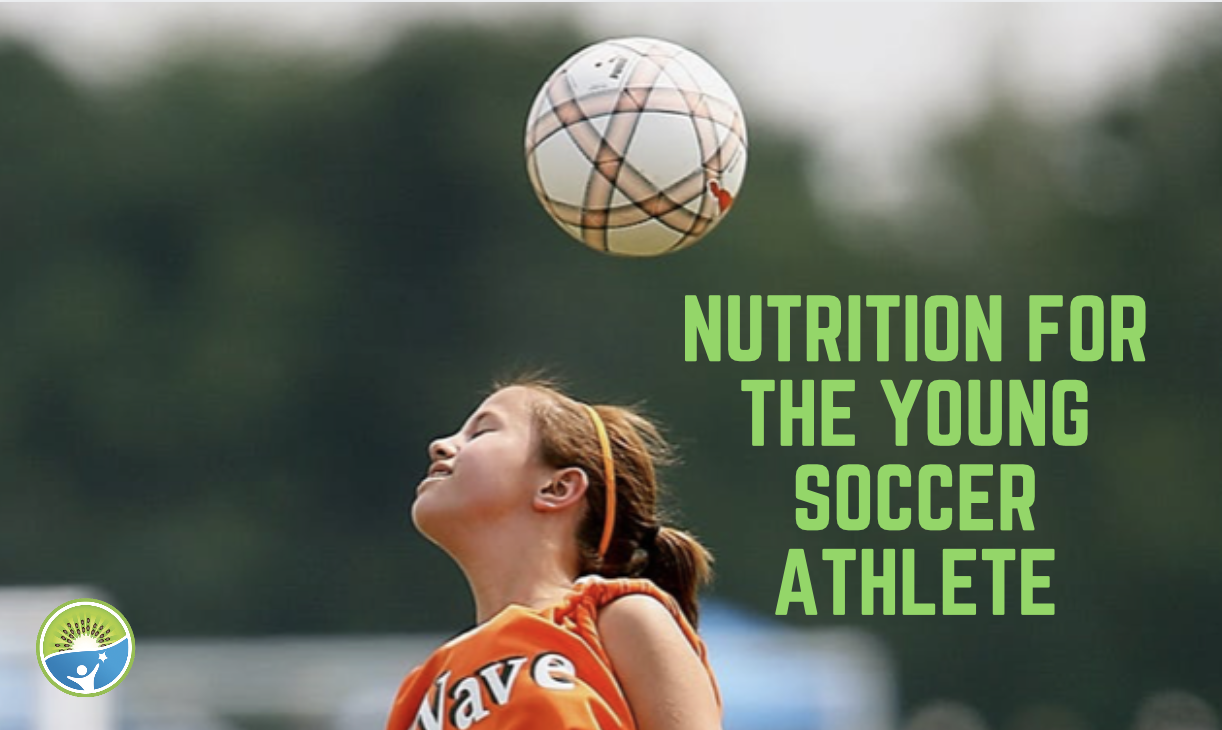 Did you know that the U.S. Women's Soccer Team's favorite pre-game breakfast is pancakes? With the recent victory of the U.S. Women's Soccer Team, read on to find out more about nutrition for soccer and check out our power-up pancake recipe.
Soccer is an endurance sport requiring strength, speed and agility. In fact, professional soccer players can run up to six miles in a game! Nutrition is often overlooked by many young soccer players. Under-fueling in soccer is common, which includes symptoms of lethargy, decreased reaction time and speed and loss of muscle and fat. Low energy intake can put soccer players at risk of nutrient deficiencies or injury. On the other hand, soccer players who over-fuel may feel sluggish, have decreased flexibility and speed, and gain more fat than muscle. Fueling for performance is a balance!
During the season, recovery and hydration are key components to performance. Especially, if games take place on Friday nights and Sunday mornings, that is a short period of time to recover and refuel.
5 Tips for the Soccer Athlete
Eat a meal 3 to 4 hours before the game. For example, for a competitive teen athlete eat oatmeal mixed with fruit, nut butter, and yogurt, 2 scrambled eggs with vegetables, and 1 cup of milk (size of meal depends on age, height, muscle mass, and level of the athlete). Keep in mind that you will not eat another meal until after the game, so the meal should keep your energy sustained.
1-2 hours before practice or games have a snack to top off energy stores, such as a PB&J or a smoothie. If you are hungry beforehand this means your fuel is running low. Imagine low-energy for sport as your phone operating on "low-power mode."
Post-game mealwhen there is a second game scheduled that weekend, include a lean protein, carbohydrate, and antioxidant foods. An example would be a burrito bowl with brown rice, chicken, black beans, lettuce, tomato, and avocado. 
Hydration: During the humid hot months, do your best to drink fluids and electrolytes during practice, games, and throughout the day. How much you need is  based on temperature, time of game, humidity, and upcoming games.  The general rule of thumb is to consume half of your body weight (in pounds) in ounces of fluid each day. Lots of foods have a high-water content. In your post-practice snack, include fruits and vegetables to help meet your hydration goal, such as watermelon, cucumbers, and citrus. Practice taking sips of water during practice and games. For example, try 2 to 4 gulps of water every 20 to 45 minutes. Include electrolyte beverage if your athlete sweats a lot and is active for more than 60 minutes.
After the tournament or a weekend filled with games, relax and simply enjoy any type of meal. 
Fruit Wrap
This recipe is easy to prep, even your kids can do it! The wrap is packed with protein, fiber, healthy fats, and a source of fruit. It will give your kids a long-lasting energy and fullness to stay active this summer.
Ingredients:
1 Whole wheat tortilla
2 tbsp Natural peanut butter OR Almond butter
½ cup of thinly sliced strawberries and bananas OR sliced apples
¼ tsp ground cinnamon
1 tsp chia seeds
Directions:
Spread the peanut butter covering one side of the whole wheat tortilla. 
Place the sliced fruit on the layer of peanut butter.
Sprinkle the ground cinnamon and chia seeds over the fruit.
Roll-up the tortilla and enjoy!
 Amanda's Power Up Pancakes 
 Ingredients:
6 egg whites
1 cup rolled oats
dry 1 cup cottage cheese
2 teaspoons sugar
1 teaspoon cinnamon
1 teaspoon vanilla 
 Instructions:
In a blender, blend all ingredients until smooth. Heat a griddle or large non-stick skillet over medium-low heat. Spray with non-stick cooking spray. For each pancake pour 1/4 cup of batter onto griddle. Flip when they start to bubble. Cook until golden brown. Repeat with remaining batches, spraying the griddle as needed. Makes about 10 pancakes. Number of Servings: 3 Nutritional Info Per Serving: 181 Calories, 2.7g Fat, 10mg Cholesterol, 361mg Sodium, 20g Carbs, 2.8g Fiber, 19 g. Protein
-Adapted from "The Biggest Loser"